Priest's guilty plea throws wrinkle into Philadelphia sexual abuse trial
By Sarah Hoye, CNN
updated 8:04 PM EDT, Mon April 23, 2012
Defrocked priest Edward Avery of the Philadelphia Archdiocese admitted to sexually assaulting an altar boy.
STORY HIGHLIGHTS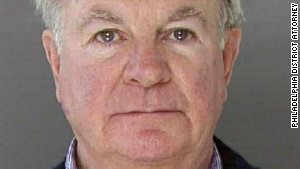 Defense, prosecution argue about which witnesses jurors should be allowed to hear
James Brennan accused of attempted rape; William Lynn accused of cover-up
Defrocked priest Edward Avery pleaded guilty days before opening remarks
Jurors were told Avery is no longer on trial; they have not been told why
Philadelphia (CNN) — Attorneys in the child sexual abuse and conspiracy trial of two Philadelphia priests debated Monday over which potential witnesses jurors would be allowed to hear regarding a third defendant who pleaded guilty to molesting boys just days before opening remarks.
Defrocked priest Edward Avery of the Philadelphia Archdiocese pleaded guilty to involuntary deviate sexual intercourse and conspiracy to endanger the welfare of child after admitting that he sexually assaulted a 10-year-old altar boy during the 1998-1999 school year. Avery, 69, was sentenced to two-and-a-half to five years.
The Rev. James Brennan is accused of attempted rape of a 14-year-old, and Monsignor William Lynn is accused of covering it up. Lynn is the first high-ranking church figure charged with child endangerment for shuffling predator priests from parish to parish.
Witness: Philadelphia priest raped me when I was 14
Lynn is accused of knowingly allowing Avery and Brennan access to children despite allegations of sexual abuse of minors.